Stand Up Paddle Boarding SUP
If you are a beginner and looking to get started, we are here to help.
Hi, welcome to PaddleandPath.com, your number 1 stand up paddle boarding resource for tips and reviews. Whether you are a beginner starting out looking for the right board or a seasoned pro looking to upgrade your current board, this is the right place for you.
Stand up paddle boarding has become a very popular water sport of the past 5 years and for all the right reasons. It is a great way to keep active and spend your time outdoors. It is also a very easy activity to pick up.
Unlike surfing where the boards are much slimmer, SUPs are more stable and provides you with good balance. All you need to do is stand up and paddle.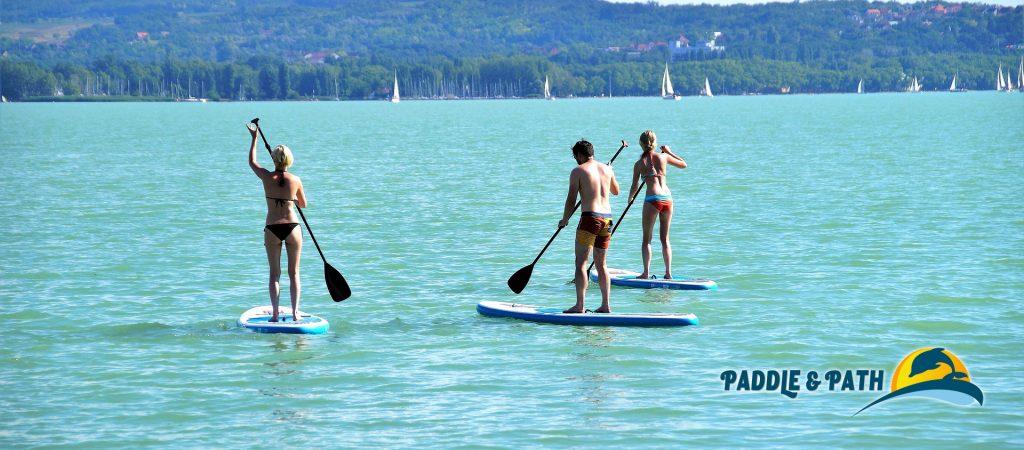 Latest From The Blog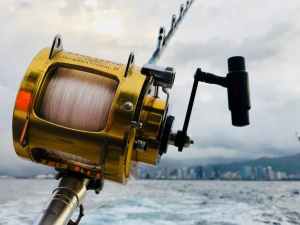 SUP Fishing Tips: How to Fish From a Stand Up Paddle Board
Paddle Board Buying Guide: All the Gear You'll Need to Start Your SUP Adventure
The Different Types of Stand Up Paddle Boards
Stand up paddle boarding or SUP is one of the fastest growing water sports throughout the world and there is a wide range of reasons behind its popularity. It facilitates people to enjoy the great outdoors while exercising mixed with fun. Those who want to indulge in full body workout without using a lot of equipment, this water sport offers them such a great opportunity. After all, stand up paddle boards offer many people the chance to practice physical activity in a combination of kayaking and surfing.
Whether you are in the tranquility of a serene lake or in the wide exposure of the ocean, you can enjoy stand up paddle boarding standing on a surfboard by propelling yourself using a paddle. Compared to the traditional surfboards, these boards are wider, longer and more upbeat that enable you to maintain the balance more comfortably on them.
If you want to take fun of the outdoors on these amazing paddle boards but don't have much knowledge about these stand-up paddle boards, then it is essential to take some time and know different types of stand up paddle boards. Thus you will be able to understand which type of board will be most suitable for you and how much you need to spend on it.
Different types of stand up paddle boards are available for specific types of stand up paddling disciplines including surfing, racing and touring. Even with the popularity of this water sport, there are hybrids designed from a cross-over from one disciple to another called All-Rounders.

Wave Boards - Surfing SUPs
These kinds of paddle boards are used for surfing waves and are different from touring and racing SUPs as they have much more rocker in them. These paddle boards are perfect for top turns, carving and stopping the nose diving while dropping into the wave. Usually, these boards are shorter in length than racing and touring SUP. The specialty of its design and build allows it to go much lower than 10 ft although its performance depends on the ability of the surfer. You have the freedom to choose the tail and fins of the board to obtain more stability and high-speed turns.
Racing SUPs
Nowadays, SUP board racing is gaining popularity fast and these boards are specifically designed to give the athletes enough edge to compete. These special racing boards are long and narrow to paddle faster. It has a small rocker to stop drag in the water. SUP boards for racing purposes can run extremely fast but maintain stability, certain amount of speed is sacrificed.
Cruising / Exploring SUPs
If you want to travel across open water, stand up paddle boards for touring, cruising or exploring purpose is the best option for you. These boards have comparatively much larger in overall dimensions than racing boards and therefore these are perfect for cruising, but not for racing. Once you will gain its optimum speed, you need to give less effort to keep the board moving.
Another great thing with these cruising or exploring SUP is that you can also fix a storage system on the board where you can carry lunch, drinks or fishing gear for the water trip.
Whitewater SUPs
If you want to practice stand up paddling in whitewater where you can explore rock, low water depth and rapids, you need these specially designed paddle boards as the usual epoxy boards are not safe enough to use in the whitewater. Therefore, the whitewater SUPs are made from PE in place of epoxy and these are hollow from inside. Due to their massive volume, these paddle boards have lots of stability.
Due to the special make of these boards, you can ride on them without or with tiny fins. In fact, the hollow construction also facilitates the users with enough storage space inside. Hence, you can go on these stand-up paddle boards for long tours taking a sleeping bag or other small sized touring essentials.
Fitness or Yoga SUPs
The stand up paddling does have amazing fitness benefits. With the help of these paddle boards, you can work on your muscles including your toe muscles. After exploring numerous fitness benefits of fitness SUP, several SUP fitness classes are increasing popping up different places in the world. With long distance paddling, one can gain awesome cardiovascular activities while improving the balance and building core muscles. In fact, you can also opt for SUP Yoga that facilitates you to practice yoga on the board on water.
Inflatable SUPs - iSUPs

Traveling with a SUP is not an easy task. If you are already tired of the heavy load of your SUP, it is ideal to consider an inflatable SUP to get rid of the heavy weight of it.
Fishing SUPs
With these stand up paddle boards, you can see further down the water that is a great advantage for the fishermen. After all, fishing from the paddle boards is a different kind of experience where the fishermen need a bit more balance. But for the avid fishermen, SUPs are great transportation as these can work as great tool.
Kids SUPs
Since, SUP can be an ideal kind of sport for entire family; nowadays, there are special kinds of SUP available for kids where they can practice comfortably.
General Tips on Buying a SUP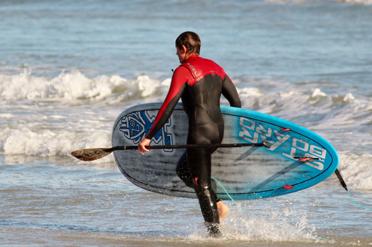 A good place to start is a local surf store that specializes in stand up paddle boards. If you live inland you could search for a SUP store near you or search online. Your first thoughts on paddle boarding is what do you want to do with it. Are planning to buy one for leisure, riding the waves, fitness or touring? This is a good starting place at looking which type of board to look at based on what you would like to do.
Based on the knowledge and skill of stand up paddle boarding, you may be able to know more about the choice of SUPs in the store. While buying a SUP, you should expect necessary assistance from the store associate who may be a specialist on SUPs.
Something to consider, you should be also aware of the fact that the store assistant should take care of your basic requirement rather than his selling interest. He must not push the product that they have in their stock at present.
Before going on the water with your long-cherished stand up paddle board, you need to ensure that you are 100% happy with the product. In order to be satisfied, you may need to shop around and keep on searching until you find the right board for you.