Stand-up paddle boards are an excellent platform for fishing that many are unaware of. Think about it for a moment, if you fish from the shore, you are tossing your line out quite far to reach your ideal spot. What if you could get out to your ideal spot and fish over it? Stand-up paddle boards makes this possible allowing to get right into the action.
Fishing inflatable SUPs are easy to carry and transport, quick to set up and very quite on the water which will allow you to get to the great fishing locations without any disturbance. You could use any inflatable stand up paddle board for fishing but if you are serious about fishing, you will probably want a dedicated fishing ISUP that will give you the best fishing experience.
In this article, I will discuss the best fishing inflatable stand up paddle boards that are built for fishing with more stability and surface area. That has more attachments and space for your fishing gear. The fishing ISUPs mentioned below are made for fishing and this is what I want to focus on.
We have made some changes and dropped a few fishing iSups that are not available anymore and replaced them with some awesome options. Our number 1 fishing inflatable stand up paddle board is now the Hippocamp Premium which knocks the Sea Eagle down.
Best Fishing ISUP 2021
What sets these inflatable SUPs from regular inflatable SUPs is mainly the size and attachment options. Fishing ISUPs are wider and provide more stability and just like any inflatable SUP, they can be packed away into the carry bag that it comes with which make travelling and storage so much more easier. Most fishing SUPs come with inflatable pumps so that you can get your paddle board up and on the water in as little as 10 minutes. Lets get started with our recommended top iSups list!
Hippocamp Fishing ISUP Premium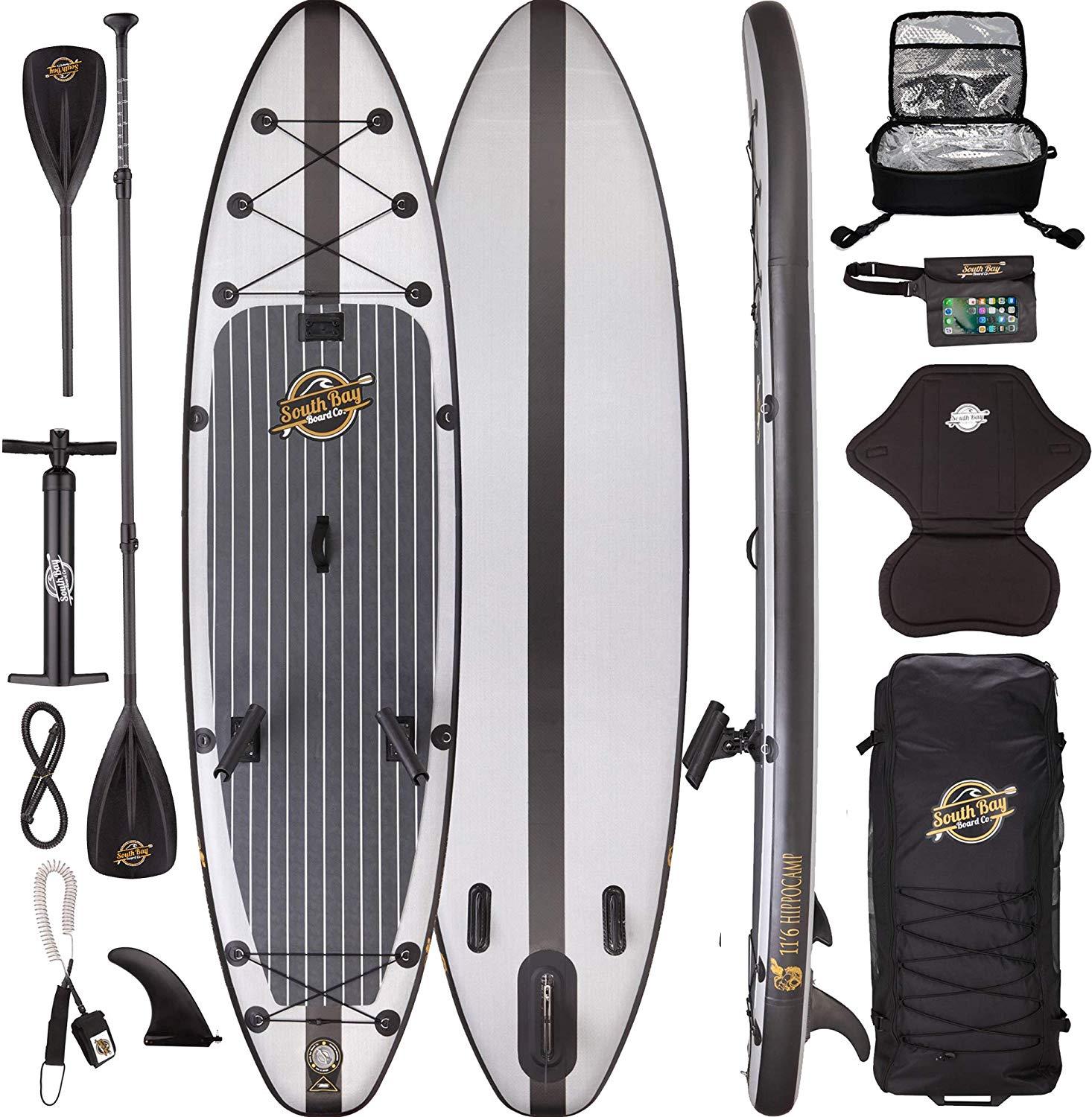 The Hippocamp Premium Fishing ISUP is our new number 1 pick. South Bay Board Co. have put together an amazing package with everything that you need for your fishing trip.
It is a super stable paddle board measuring at 11 feet, 6 inches can support up to 400 lbs enough support to bring on extra fishing gear. They have thought of everything with pre-installed fishing mount plates and fishing rod holders.
A kayak seat and cooler will make your fishing adventure more enjoyable. This isup package is loaded and very good value for money. Built in the US from military grade material, this stand up paddle board is made to last.
Dimensions: L – 11'6″ W – 32H – 6″
Max Weight: 400 lbs
Features:
2+1 FCS Paddle Board Fin Set
9″ SUP Fin
Coiled SUP Leash
4 Piece SUP Kayak Paddle
Pre-Installed Bungee Straps
ISUP High Capacity Hand Pump
ISUP Patch Repair Kit
ISUP Carrying Backpack With Wheels
Pre-Installed D-Rings
Kayak Seat
ISUP Cooler
Waterproof Fanny Pack
(3) Pre-Installed Fishing Mount Plates
(2) Fishing Rod Holders
30 Day money back guarantee
1-year warranty
---
Sea Eagle FishSUP 126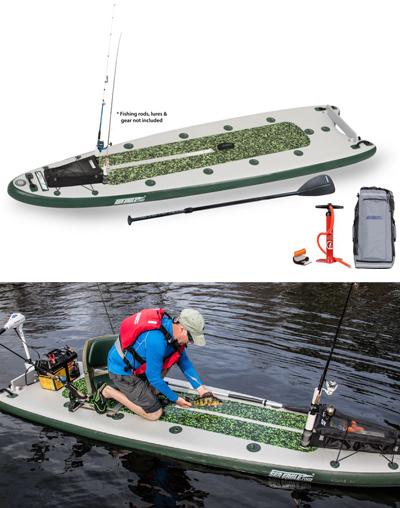 The Sea Eagle FishSUP has moved down and is our number 2 fishing inflatable stand-up paddle board on our list. Sea Eagle have done an incredible job with their SUP. This is a true fishing paddle board with everything that a fishing enthusiast would want.
It is a super stable paddle board measuring at 12 feet, 6 inches with a swallow tail and an attachment for a small electric motor. It has a built in ruler on the deck for quick measuring. The FishSUP as many options that you can add from fishing pole holders to a swivel chair. It is a fantastic inflatable stand up paddle board and worth every penny.
Dimensions: L – 12'6″ W – 40″ H – 6″
Max Weight: 350 lbs
Features:
Built-in 36″ Fish Ruler
14 Stainless Steel D-ring Attachment Points
Paddle Pocket
Water Camo Patterned – Non Slip – Protective EVA Foam Deck Pad
Removable Motor Mount
Swallow Tail
3-year warranty
---
Elkton Outdoors Grebe Fishing ISUP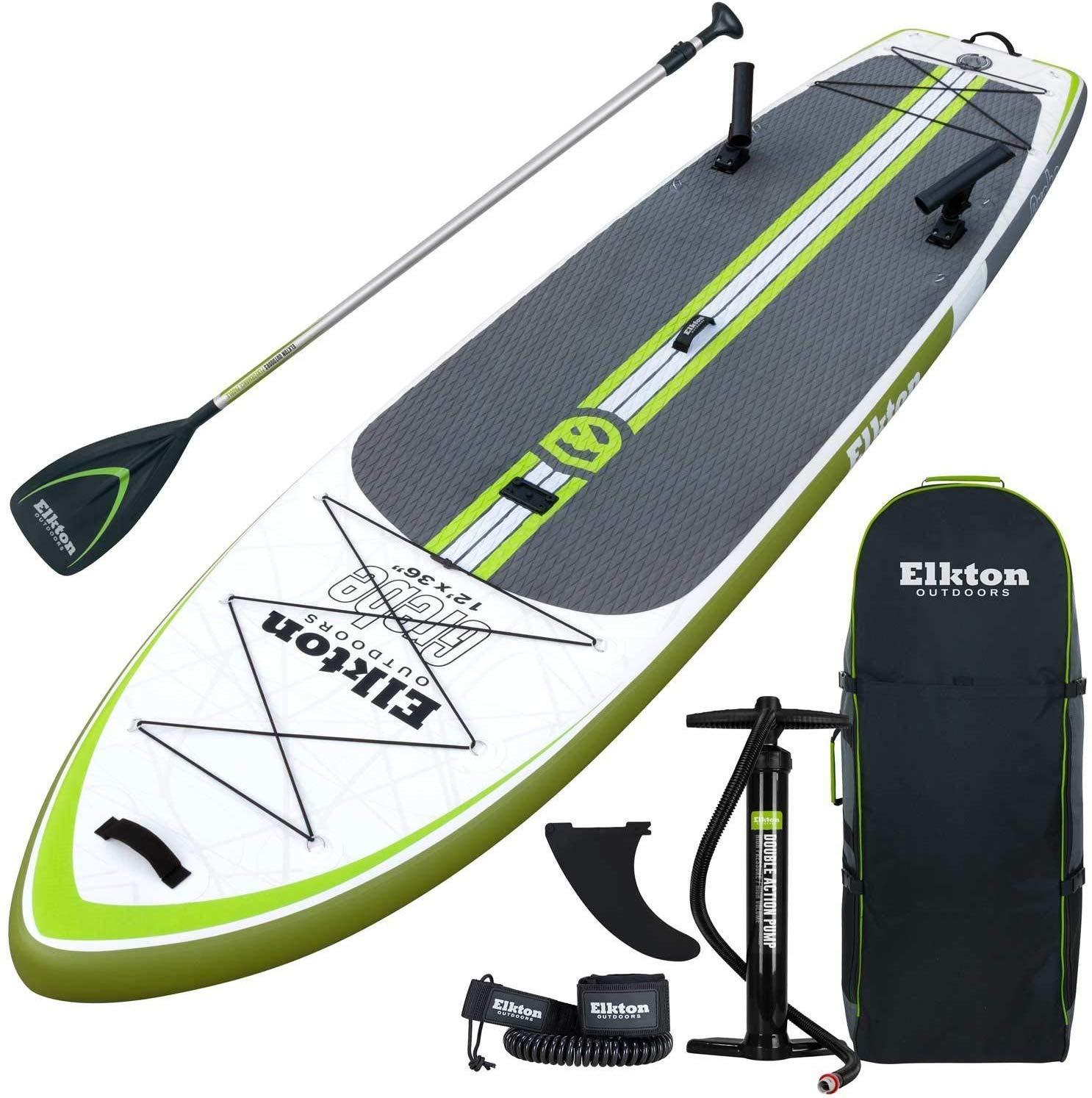 Our new number 3 fishing isup is the Elkton Outdoors Grebe. A durable and stable inflatable sup with rod holders will make for a good fishing trip. Elkton have some very good outdoors products and the Grebe is no exception. Light and compact when storing makes it easy to transport.
The Elkton Grebe is a good allround paddle board for fishing or if you just want to burn some energy and get some water time.
Dimension: L – 12′ W – 36″ H – 6″
Max Weight: 280 lbs
Features:
Lightweight adjustable paddle
Pre-installed Scotty mounts
Easy load carry pack
Built-in fishing rod holders
Elastic bungee cords for cargo
Ankle leash
Snap in fin
Easy grip handle
1-year warranty
---
Airhead SUP SS Bonefish 1138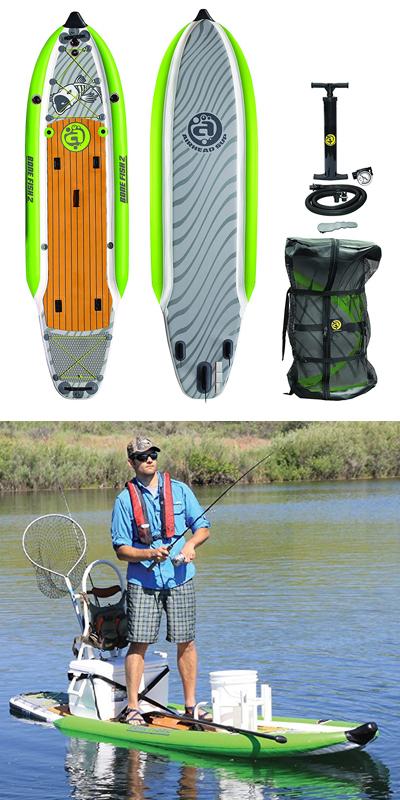 The Airhead SUP SS Bonefish 1138 is at number 3 on our list. This super stable (SS) fishing ISUP has 2 inflatable rails that provides extra stability in rough water and when fighting bigger fish.
With 4 integrated strategically placed mount pads on the board allows you to add 4 fishing rod racks, Airhead SUP fishing rack and/or bucket rack.
2 Smaller accessory mounts for small rod holders or other accessories and 2 stainless d-ring cooler tie downs round out the endless possibilities for equipment that can be added to this board.
The classic teak-look EVA decking provides sure footing. You will enjoy the versatility of the 10 stainless steel D-rings and 2 stretch tie-downs.
Dimensions: L – 11'6″ W – 38″ H – 4″
Max Weight: 350 lbs
Features:
2 x 6″ and 1 x 9″ removable fins
EVA traction pad
12 stainless d-rings
Stretch tie downs
Stainless tow ring
3 EZ push high pressure valves
1 Pry valve
Mesh backpack
High pressure hand pump
Pressure gauges
Valve wrench
Board strap
Repair kit
1-year warranty
---
Airhead AHSUP-3 SS Stand Up Paddleboard Camo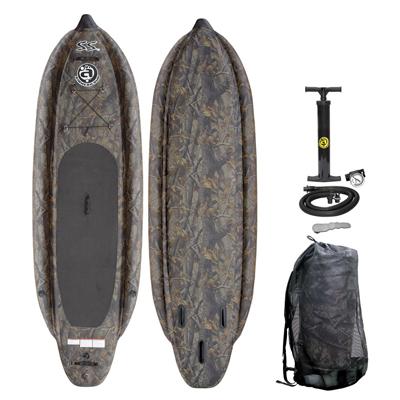 Another SUP by Airhead is our #4 pick. The Airhead AHSUP-3 SS in camo makes for a good SUP in the water. The camo livery gives the look and feel of nature making fish unaware of your presence. If you prefer to hunt from the river or lake this is a good option.
SS stand for super stable and this is exactly what it is. Very good board for beginners and intermediates. Great for fishing and good on any water. Whitewater paddlers appreciate the stiffness, lower standing area, tapered rails and aggressive nose for punching through waves.
SS remains stable even when way up on edge. Three fins, with removable center fin, ensure straight tracking.
Dimensions: L – 10'8″ W – 38″ H – 6″
Max Weight: 300 lbs
Features:
Extra rugged drop stitch construction
Anti-skid EVA pad
4 D-rings to strap your gear to up front
3 removable fins ensure straight tracking
Backpack with mesh panels for carrying the SUP and all accessories
Includes high pressure hand pump
Anemometer
Valve wrench
Repair kit
1-year warranty
---
Fish Stalker Fishing Inflatable Stand-Up Paddleboard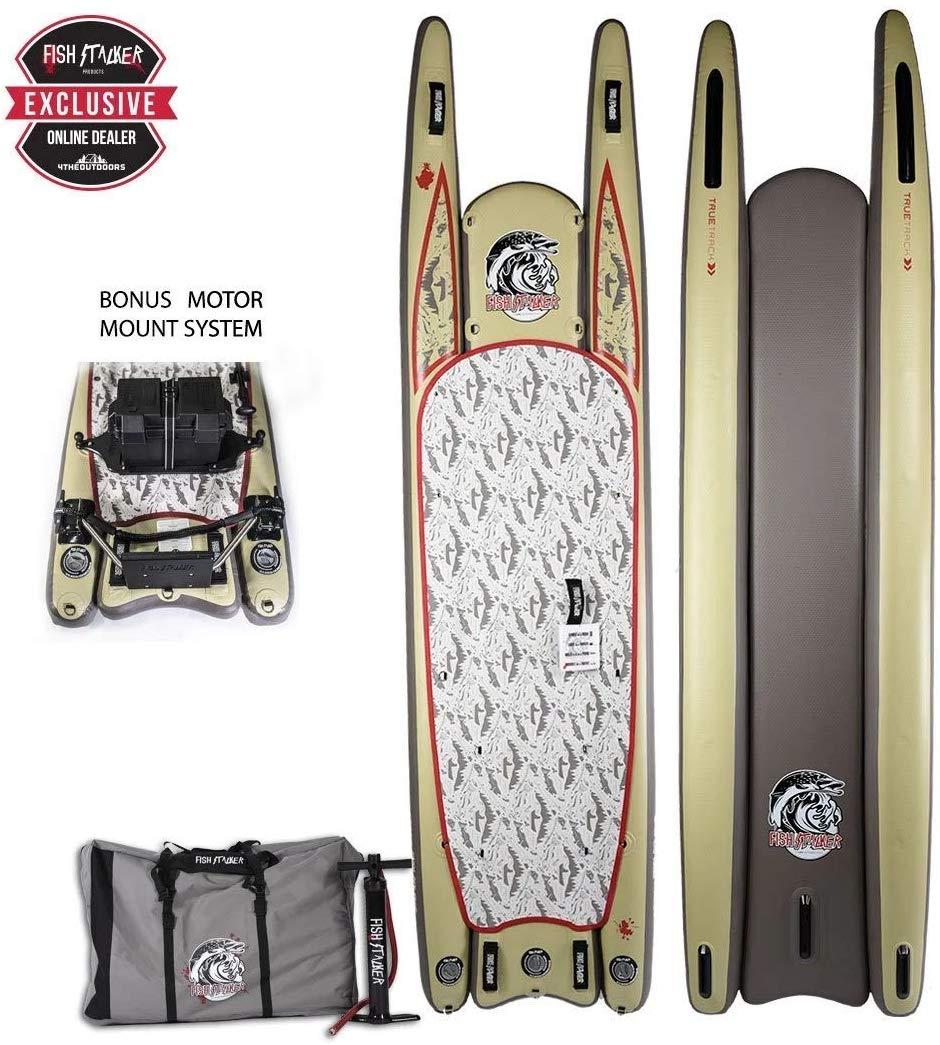 Rounding up our best fishing ISUPs list is the Fish Stalker Fishing inflatable stand-up paddleboard. Like the Sea Eagle FishSup, the Fish Stalker has the option to mount a small electric motor that will make your getting out to the perfect fishing spots effortless.
The tracking and glide on this isup is incredible with the 4 fin set up on the outer edges as well as a larger fin in the rear. Very stable and can carry extra fishing gear for your trip.
The Fish Stalker inflatable, nicknamed the iStalker, has a unique catamaran hull giving it superior stability without taking away from an efficient, effortless glide. It's perfect for sneaking into your favorite honey holes. Pack on a cooler and you are ready for a day long solo session. Customize your rig using the included RAM® Mount Tough Balls and have all your gear at your fingertips. Or, leave it all at home and enjoy the simple side of a day in the outdoors on your Fish Stalker.
Dimensions: L – 12′ W – 36″ H – 7″
Max Weight: 500 lbs
Features:
Three Chamber catamaran design
An optional Made in America Trolling Motor Mount System
Eight threaded inserts that support most RAM® Mount accessories
Dual truTrack™ front fins
Dual detachable impact resistant rear fins
Multiple D-rings for accessories or to secure your cooler
Four rugged handles
Dual station high volume pump
Travel bag
High-pressure pump
---
In conclusion, if you are looking for a great fishing ISUP worth the money and excellent for fishing, then we highly recommend the Sea Eagle FishSUP. This is by far the most dedicated fishing paddle board with the extras that can be attached to this SUP. If you need a small craft for fishing, attach an electric motor and you are set for a great fishing day on the lake or river.
If you have any questions, we would love to hear from you.