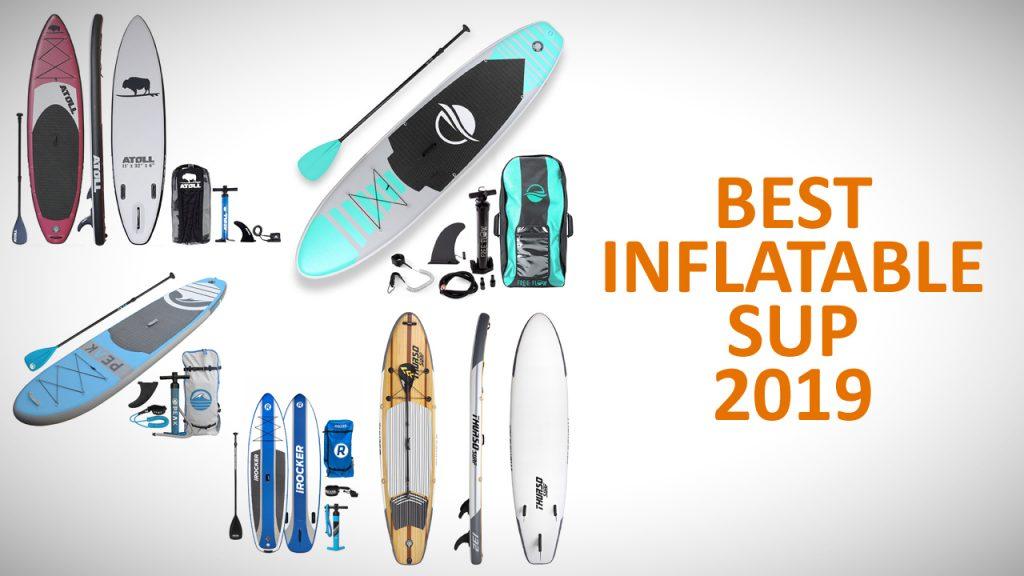 Stand up Paddle Boards are super cool and has become one of the fastest growing water sport in the past 6 years. Today we are going to look at the best iSUPs or inflatable stand up paddle boards that you can buy in 2021.
The one thing that makes inflatable stand up paddle boards popular for beginners is the storage advantage that these have over standard SUPs. Makes its very convenient to travel will as well as most come with a backpack like back that everything can fit into.
The price range of our top 10 vary and although they can get quite expensive, they are all very durable and will last for quite some time. Some have single fins or 3 fin options depending on what your type of suping that you plan to do.
Best Inflatable Paddle Boards

2021
There are some things that you should know about the different types of stand up paddle boards. There are 4 categories of paddle boards such as: All-Rounders, Touring / Cruisers, Fitness and Racing paddle boards. The shapes, density and sizing of the boards determine the category and what you can use them for.
Before we begin, you should know that stand up paddle boards are commonly known as SUPs which is the acronym and short version.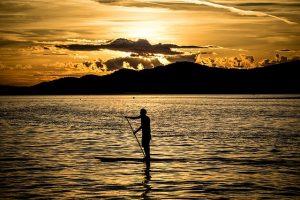 There are 4 categories of SUPs that you can buy on the market. All-Rounders are the most versatile and easiest to use. Good for riding on flat water and catching smaller waves. Can be used in pretty much any conditions.
Touring or Cruisers are typically narrower than all-rounders and are made for fitness paddling. Meaning if you want to travel longer distances at a decent speed. The hull is also designed for less resistance than all-rounders and yoga boards.
Racing SUPs are the narrowest but lack the stability of all-rounders. This makes up in speed and good for racing.
Yoga or Fitness boards are the most stable and also the widest. These are used mainly for flat, calm waters in order to perform yoga exercises. Offers more balance for fitness. These have become very popular with yoga groups becoming more frequent in the warmer climate.
Overall if you are looking for a board that you can do a little bit of everything with, then all-rounders are for you. This is what I am currently using at the moment. We cover the different types of SUPs below. Continue to read are top 10 best reviews.
1. Atoll Inflatable Stand Up Paddle Board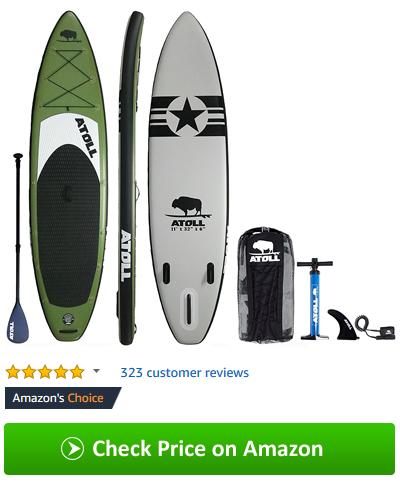 I see many others rating the Tower as there number 1 iSUP but I beg to differ. I respect everyone's opinion but find the Atoll a lot more superior and much more stable. What makes this our number 1 pick is the larger detachable fin. Most other 3 fin SUP have smaller attached fins, but the Atolls main fin is much larger making tracking in a straighter line much better.
Features:
11′ long x 32″ wide x 6″ thick
Supports riders up to 300 lbs
H3 valve
EVA foam on the top
Fully wrapped with second layer for a more rigid and sturdy iSUP
Detachable fin
2 Year manufacturers warranty
Includes:
High pressure Bravo dual action hand pump. Pumps air in both directions (up and down)

2nd Generation Aluminum Adjustable 3 Piece Paddle with nylon blade

Detachable extra durable removable fin

Backpack Carry Bag now doubles as a dry bag (large enough to fit pump, paddle, paddle board, and ISUP repair kit)
The Atoll Deluxe Cruiser one of the best all-rounders and it is nice and rigid and moves very good through the water. It is not bad for catching waves but at the same time not the best. It does however have good stability going through choppy water. Inflating and deflating the board with the dual action hand pump is a lot more easier and travel is convenient. Good bang for your buck if you are looking for a iSUP on the higher end. You can read our full review here.
Colors: Green | Red | Blue
Pros
2nd layer wrapping makes this iSUP more rigid
High quality, stylish and affordable
Durable and easy to store
Excellent customer service
Cons
Smaller fins may come lose from constant folding
Not the flashiest of colors
---
2) SereneLife Premium Inflatable Stand up Paddleboard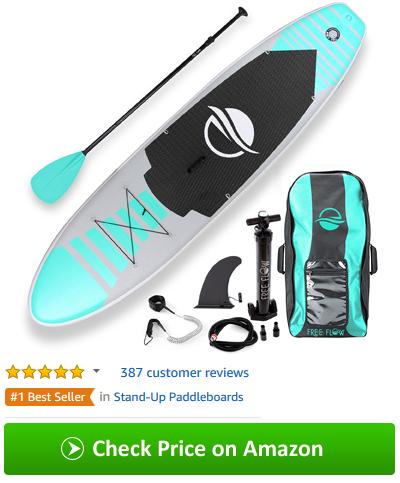 The SereneLife Premium iSUP is rated as the number 1 best seller on Amazon and makes our list at number 2. The reason being is that this paddleboard is very beginner friendly and super affordable.
The dimensions are good making it very stable for every level to enjoy as well as the great variety of colors to choose from. The 6 inch thickness of the board is a key feature as you can paddle with an extra person. There is no sagging in the middle and it holds firm. Impressive surf control for an all-rounder.
Features:
10'5 L x 30″ W x 6″ H
Supports riders up to 275 lbs
Non slip soft top deck
Extra wide for stability
3 fins for best paddling maneuverability
All in 1 blow up kit
Includes:
10'5″ paddleboard
Coiled ankle cuff safety leash
Upgraded Aluminum paddle
Detachable fin
Manual air pump
Backpack / Storage bag
Colors: Aqua | Blue |Marine Blue | Olive Green | Orange | Pink
Pros:
Impressive surf control
Good quality aluminum paddle
Ankle leash included
Price
Good for all levels
Cons:
Pump could be better
Awkward to carry over a long distance (feels unbalanced)
3) PEAK Inflatable Stand up Paddleboard Package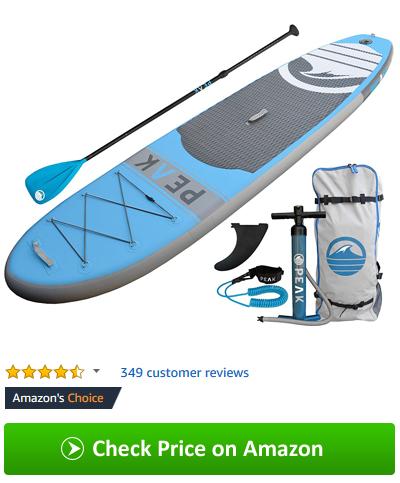 If you looking for a middle end high quality paddleboard in terms of price range, then you cannot go wrong with the PEAK iSUP. Everything you need is included with this package. A nice all rounder that can handle any water condition that is easy to use.
With its durable design and 6 inch thickness, you will be getting a lot of use from this paddle board. The 6 d-ring with bungee provides a good place to bring your gear with you. This is one of the best rated in terms of stability that it is good for fishing as well.
Features:
10'6 L x 31″ W x 6″ H
Supports riders up to 300 lbs
Durable
Diamond traction deck
Best iSup design
Military grade PVC construction
Nose handle
30 day guarantee, 1 year warranty on materials
Includes:
3 piece adjustable paddle
Coiled leash
Carry backpack
High pressure pump with gauges
Colors: Aqua | Blue | White
Pros:
Good for all skill levels
Nose handle for easy carrying along the shore
Cons:
Valve seems to be of low quality
Only has 1 fin
4) Thurso Surf Waterwalker Inflatable SUP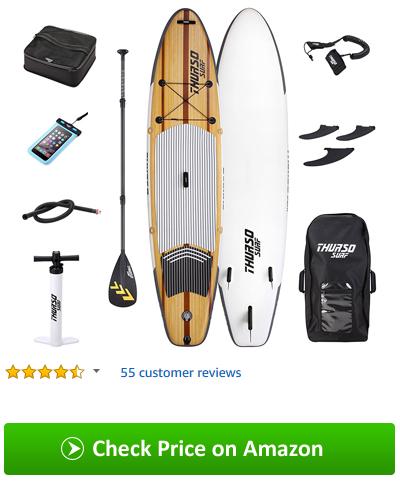 The Thurso Surf Waterwalker All-Rounder is a relatively new comer to the inflatable paddle board market but making quite the stir. One of my good friends bought one a few months back and has been pestering to come try it out.
On first glance, it looks pretty cool with its wood grain design, almost like an old school surf board. I was blown away by its firmness and handling on the water. No sagging by the feet and feels very stable. The paddle is nice and lightweight and pretty close to a high end paddle that you would buy as an upgrade.
What I really like about the Thurso Surf are the 3 detachable fins. This gives many configuration options that you can use for cruising to surfing. Depending how you want to cut through the water.
The quality of this isup is incredible and definitely with every penny. If you don't mind spending a bit more to be sure of a long lasting product, then I highly recommend the Waterwalker. As a newcomer, it makes number 4 on our 2018 top 10 list.
Features:
11′ L x 32″ W x 6″ H
Supports riders up to 330 lbs
6 inch double layer construction
Triple military grade PVC coatings
Strongest iSup structure on the market
3 removable fins
Carbon shaft paddle that floats
2 year warranty
Includes:
Waterwalker Inflatable SUP
Carbon shaft paddle
2+1 removable Quick Lock toolless fin set
Premium double swivel leash
High pressure dual action pump
Travel-friendly backpack
Colors: Wood grain
Pros:
Super stable
High quality materials used
Best paddle available in a package
Cons:
Only available in 1 color
5) iRocker Cruiser Stand up Paddle Board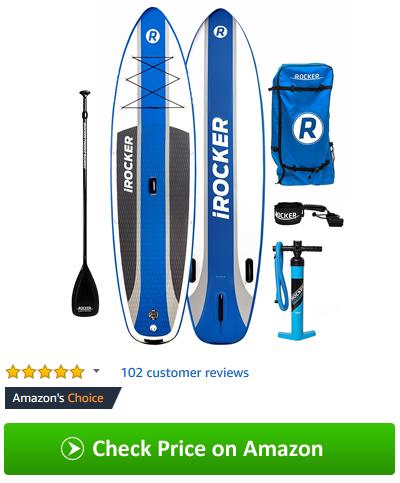 At number 5 we have the iRocker Cruiser isup which is another good inflatable stand up paddleboard that can hold the most weight out of our top 10. With good construction design, you and a partner will enjoy being out on the water with very little sagging. Take your partner or kids or your dog out for an excellent adventure.
The 33 inch width provides very good stability and tracking is relatively easy with its 3 fin set up.
Features:
10'6 L x 33″ W x 6″ H
Supports riders up to 400 lbs
Quad military grade PVC construction
Adjustable fiberglass paddle
Wide tail for extra stability
Crocodile textured diamond grooved deck top
2 year warranty
Includes:
iRocker Cruiser Paddleboard
Fiberglass paddle
Leash
Backpack / Carry bag
Hand-pump
Colors: Blue | Black
Pros:
Ranked # 8 on Amazon
High quality paddle
best construction design
Super stable
Holds a good amount of weight
Cons:
Price
Does not glide as well as other iRockers
6) ISLE Airtech Inflatable Yoga Stand Up Paddleboard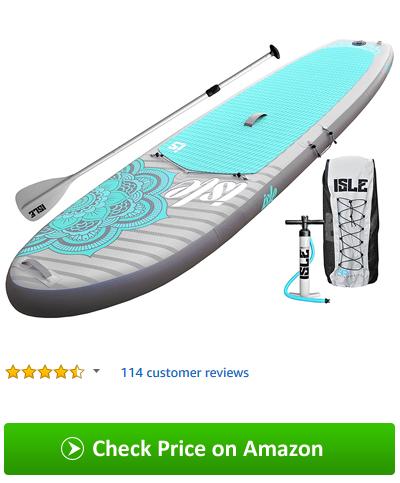 Since updating our top 10 list, we have moved the ISLE Yoga paddleboard down to number 6. This is still one the best boards for yoga and fitness workouts that you may want to do on the water but not everyone's first choice when searching for an all-rounder. iSUP Yoga has become one of the most popular activities to do on a stand up paddle board with many groups going out on the water in the summer time.
It makes for great balance and what a better place to be at peace than the calm and serenity of an open lake.
Features:
10'4″ long x 31″ wide x 6″ thick

Supports riders up to 255 lbs
Airtech construction
Stability for fitness
Ultra durable
30 day guarantee and 1 year warranty on materials
Includes:
3 Piece aluminum adjustable travel paddle
Carry backpack
High pressure pump with pressure gauge (inflates to 15 PSI)
Removable travel fin
Repair kit
The ISLE Airtech Inflatable Yoga stand up paddle board has a wide nose and tail which offers a larger area for the yoga enthusiast. Its also a good board for a paddle on the bay or the lake. Not the best for choppy waters. It is a stylish board and has bungee cords to strap on any items you would like to take along with you.
Colors: Gray
Pros
Revolutionary iSUP technologically makes this board 30 % lighter than others in its class
Stylish, easy to store and transport
Great for the yoga enthusiast
Larger platform for fitness
Perfect for beginners
Cons
Not great for choppy water or ocean
May be too large for some.
---
7) PathFinder Inflatable Stand-up Paddle board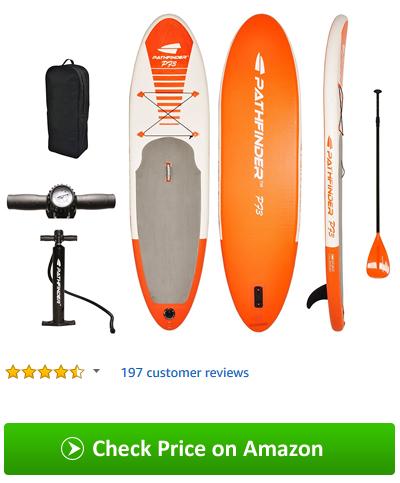 One of the smaller iSUPs on the market, the PathFinder iSUP is one of the cheapest as well. If you are a part-time SUPer then this board is for you. You get everything that you need to get started and will save on renting out from your local stand-up paddle board store.
Features:
9'9″ long x 30″ wide x 5″ thick

recommended weight limit is 240lbs
Great for wide range of water and use conditions
Amazing Durability – PVC material and strong multi-layer drop stitch
Large deck pad, bungee for securing on-board cargo, and D-ring to attach a leash

Available colors: Blue and Orange
Includes:
Adjustable aluminum paddle
Pump
Detachable center fin
Carry bag (with shoulder straps)
Valve wrench
Colors: Blue | Orange
Many have been satisfied with the PathFinder but if you are serious about going out on the water often and going cruising, I highly recommend the Atoll instead. That is if you have the budget.
Pros
Good beginner board
Affordable
Light weight
Cons
---
8) ISLE Airtech All-Around iSup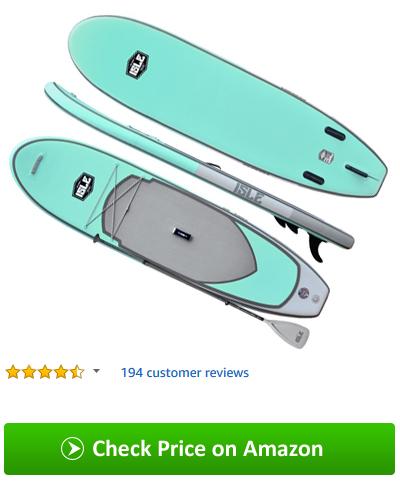 The ISLE Airtech inflatable SUP is another good all-round stand-up paddle board. Best for flat water and good on waves, this is one of the higher priced boards. ISLE is known for quality construction and they have a good variety of SUPs. Fully inflated the ISLE Airtech has little flex and is quite firm.
Features:
10′ long x 31″ wide x 6″ thick

recommended weight limit is 240lbs
Airtech construction

All-round design

Ultra durable

Includes iSUP accessory bundle
60 day guarantee

Includes:
3 Piece Aluminum Adjustable Travel Paddle
Carry bag
High pressure pump and gauge (inflates to 15 PSI)
Removable travel fin
Leash
Repair kit
This package is good overall and affordable. Has straps to attached a bag that you want to take with you on a long haul. Gets good consistent speed quickly.
Colors: Aqua |Blue / Gray
Pros
Good all-round iSUP
Minimal flex when fully inflated
Good looking design
Nice and light to transport
Good for beginners
Cons
Weight limit is low so cannot carry another person
Does not track that well
Too expensive
---
9) Solstice Bali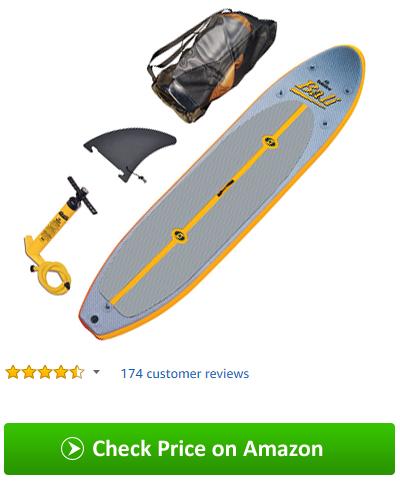 The Solstice Bali Stand-Up Paddleboard is another good All-Rounder and comes in at number 9 on our top 10 list. It is very stable for cruising and tracks okay with 1 fin. This iSUP does need to be pumped to 15 psi for good usage. Very good on lakes and bays but not the best for waves. I would use this solely for cruising.
Features:
10'8″ long x 34.5″ wide

Supports riders up to 240 lbs
High-pressure inflatable paddleboard.
Sleek, lightweight and fast
Extremely rigid and strong.
Includes 4 stainless tie-downs for securing gear
Durable 1000 Denier 3 ply PVC reinforced fabric material
Includes:
It comes in a good sharp color with the grey and light orange but you would need to buy a paddle as this iSUP does not come with one included.
Colors: Gray / Yellow
Pros
Good price on the lower end
Good cruising iSUP
Great color
Easy to store
Cons
No paddle included
Needs to be pumped to the max for best rigidness
3 fins would be ideal on this iSUP
---
10) Tower Paddle Boards Adventurer Inflatable SUP Package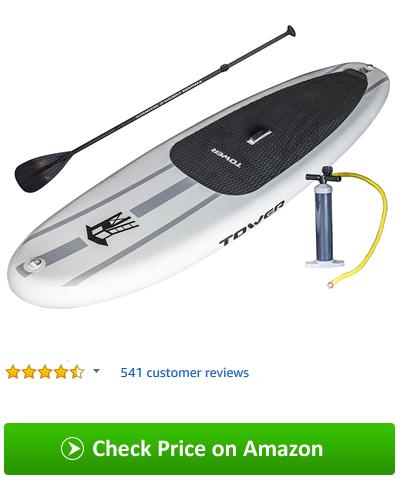 Tower made its name on the popular TV show called Shark Tank. The opening statement from owner Stephen Aartsol did not go so great where he froze up. After that there was no turning back and Tower got the backing of Mavericks owner Mark Cuban. Tower has developed a good iSUP that is on the shorter side but can hold a good amount of weight without any flexing.
Well constructed with military grade PVC material, the Tower Adventurer can with stand the bumps and grinds. The Tower is one of the few that is great for river rapids and durable for that nature. Stable and strong, the Tower makes for good fishing excursions.
Features:
9'10" long x 32″ wide x 6″ thick

recommended weight limit is 350lbs
Extremely rigid
Highly durable. Military-grade PVC material and drop-stitch construction

Easy to store and transport.

2 year manufacturers warranty
Includes:
Board
Pump
3-piece adjustable fiberglass paddle
The Tower Adventurer stand-up paddle board rounds up our top 10 best inflatable SUP list and is a good performer. Priced in the higher range, the Tower gets our recommendation as it one of the strongest and most rigid. Better used on flat waters and some river rapids. The 3 fin setup makes decent tracking.
Pros
Strong and rigid. Can withstand lots of bumps
No concerns over board cracking
Nice fiber-glass paddle
Cons
Not the best on waves, okay on flat water
---
Are Used Paddle Boards a Good Option?
My personal opinion on this is that if you are buying a regular standard solid paddle board, then used is okay. If you are looking to buy a used inflatable standup paddle board, then new is the best option. If you do buy used, thoroughly check the board. Ask the seller to inflate the isup to check for leaks, d-rings, seams and any peeling or tears. Even if it is a secondary layer, you do not want anything coming loose. See what accessories are available with the board. Make sure to go over every inch of the board to make sure that you are covered and not buy a board with any problems