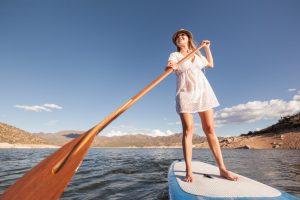 Paddle boarding is to propel in a rowing movement while standing up on a paddle board on a lake, river or ocean. Paddle boarding is a great outdoor activity that you can do alone or with the whole family. You could even take your furry little friend for an excursion.
In this article we cover a few tips if you are starting out with SUPs to give you a better understanding.
Basic Tips for Beginners
Select the right size for you:
Select a stable and wide board to begin with.

Check out the weather. You will want to start with calm conditions that is not too hot.

Check your balance on the board. Paddle board should be comfortable and stable to stand up.

If the chosen board is not feeling stable at all, go for a larger one.

Small sized boards are not recommended for beginners.
Holding the paddle:
Hold the paddle using two hands one on the top of the shaft and another on the center.

The paddle should be ahead of you.

Elbows should be bent at 90-degree angle. This posture will provide you a comfortable position for paddling.

The paddle should be kept in an angular direction.
Standing up on paddle board:
Go out with your paddle board in a calm weather and flat sea.

Set up with your knees and get a few knock on each side.

After practicing try to stand up with one leg and lean forward. This posture helps to gain balance.

Always stand in the middle of the board keeping your feet parallel and shoulder apart.
Basic strokes:
While turning to the left side, place your paddle at the right side in the water.

While turning right, put your paddle near the end and drag towards the nose with torso turning right. This will rotate the nose of your board toward the right.

To continue in a straight line, get a few strokes at one side and then switch to another.

Types of SUPs
There are typically four kinds of stand-up paddle boards. These are Surf, All-Rounders, Flat Water and Racing SUPs. You can get these in the standard solid SUP for as a inflatable SUP. See our best inflatable stand-up paddle boards here.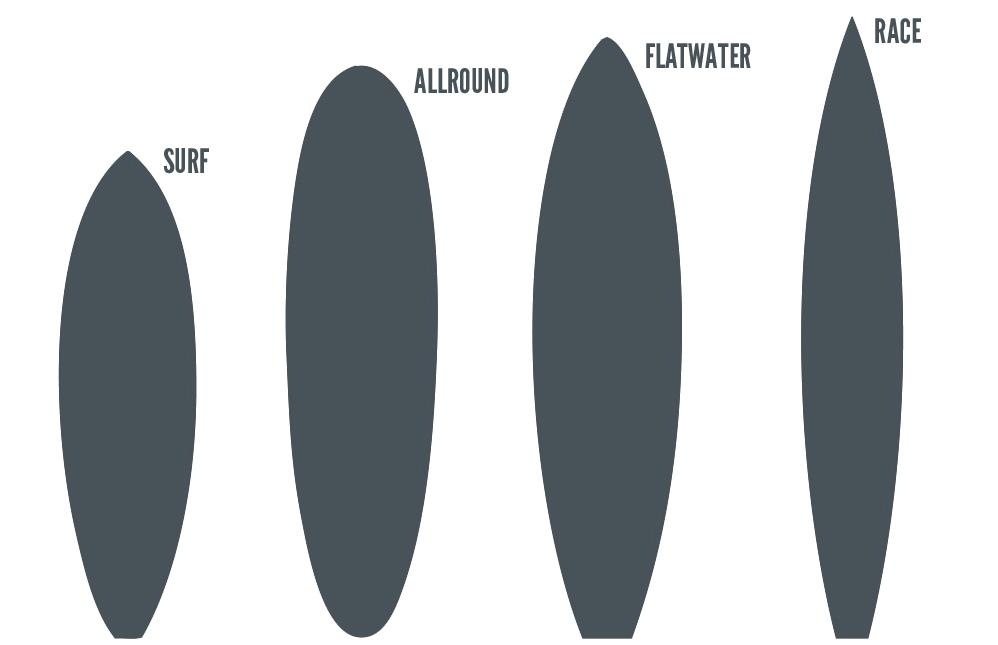 Surf specific stand-up paddle boards are usually the shortest of the lot. Surf paddle boards are great for spending time in the waves. The narrow shape gives the board more maneuverability on the surf and easier to accelerate and turn over short distances. They are not the best for tracking in a straight line on flatwater and are most often less stable.
All-Round boards are typically thicker, wider, and longer than surf specific models. These are more versatile, multi-purpose boards that make excellent boards for beginners because you are able to experience all aspects of the sport with only one board. All-Round boards are more stable because they are wide. They have decent glide and tracking for flatwater paddling or open ocean touring, but also enough rocker and side cut for decent surf performance. A mast foot fitting is included on the deck of the board so that a windsurf sailing rig can be mounted, making these boards exceptionally versatile.
Flatwater boards are optimized for flatwater like lakes and open ocean paddling. They are usually longer than all-round boards with a nose area that is more pointed to help the board cut through the water smoothly, increase glide and help the board go straight. The sides are usually rounded for more glide and speed. Most flatwater boards are wide enough to be stable for beginners.
Racing boards are the narrowest SUPs for increased speeds. Sometimes called needle nosed stand-up paddle boards, these are excellent for cutting through water at a faster pace with reduced friction. These boards are more challenging for beginners so it is not recommended to start with a racing SUP.
Most stand-up paddle boards come with a package which includes a paddle, pump, fin and possibly a carry bag for inflatable SUPs. Most of these accessories are standard quality and it is highly recommended to upgrade to a higher quality product. Browse the types of paddles here from carbon fiber to wooden.