Microfiber towels have become a very popular sports towel for athletes, swimmers, yoga, fitness fanatics and now become the choice towel for travelers. Why is this? They are super absorbent, easy to travel with as they do not take up as much space a standard towel and can be wrung out leaving them dry in pretty much no time.
If you do not have a microfiber in your possession you should! You will be pleasantly surprised at the convenience of this amazing products. If you are familiar with a chamois or the infamous infomercial "Shamwow" then have an idea of what the microfiber towel is. The material allows water to be soaked up super quick and can be wrung out leaving you with a nice dry towel. So what does it have to do with this stand up paddle board site you ask?
Would it not be the perfect towel to take with you on your paddling excursions? Its the first item that I pack into my drysack when I go out paddle boarding. It is the perfect companion to take with you fishing, camping, swimming and more.
What makes microfiber towels neat is how thin they are and how compact you can fold them or roll them. It makes it very convenient to place into a back pack or travel bag compartment without the need of taking and extra bag just for towels.
My wife fell in love when I purchased ours. We take these everywhere we go. Having said that, we are going to review the best microfiber sports towels available that are durable, easy to maintain and reasonably priced.
Our Top Picks: Relefree Premium Microfiber Towel | Youphoria Microfiber Towel | Rainleaf Antibacterial Microfiber Towel | Sunland Microfiber Towel | Raqpak Microfiber Travel Towel | Wolfyok 2 Pack Microfiber Towel Set
Please note that if you prefer the luxurious soft feel of regular bath and swimming towels, then these are not for you. Be prepared to take another bag with you.

Relefree Premium Microfiber Towel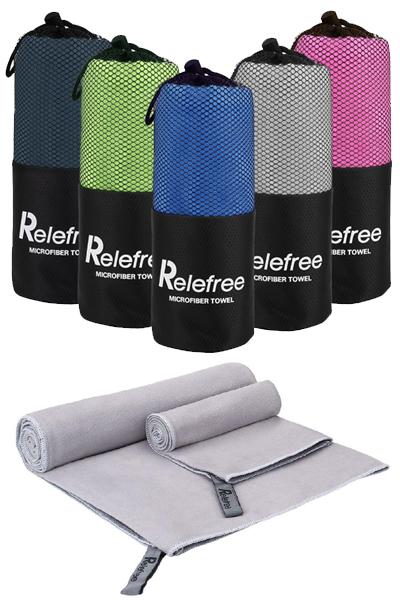 The number 1 pick  on our top list of microfiber sports towels, is the Relefree Premium microfiber towel. These are really neat as you get 2 towels in a set.
You will get a full body sized towel as well as a small face / hand towel that is perfect for gym and working out use.
Relefree offers a towel replacement or full money back guarantee if you are not satisfied with the product.
Colors available:
Features:
Quick drying and highly absorbent
Super-soft texture and antibacterial
Lightweight towels
Multi-use
Included:
60″ x 30″ large body towel
24″ x 15″ small hand / face towel
Mesh carry bag
Youphoria Microfiber Multi-Purpose Sport and Travel Towel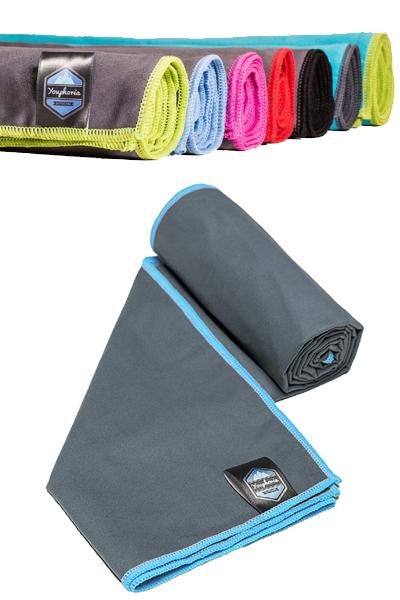 The Youphoria Multi-Purpose Microfiber towel is available in a wide range of colors as well as three different sizes which makes it convenient for any activity. However they are sold individually and not as a set.
The Youphoria is the perfect multi-use towel for traveling, backpacking, golf, beach, gym, home and many more.
Full replacement if you are not satisfied.
Colors Available:
Blue/Grey, Blue/Green, Dark Blue/Grey,
Grey/Black, Grey/Pink, Grey/Red, Green/Grey,
Mint/Grey, Grey/Blue, Grey/Green
Sizes Available:
20 x 40 inch
28 x 56 inch
32 x 72 inch
Features:
Fast drying
Super absorbent
Hanging loop for easy drying
Convenient carry mesh bag
Rainleaf Antibacterial Microfiber Towel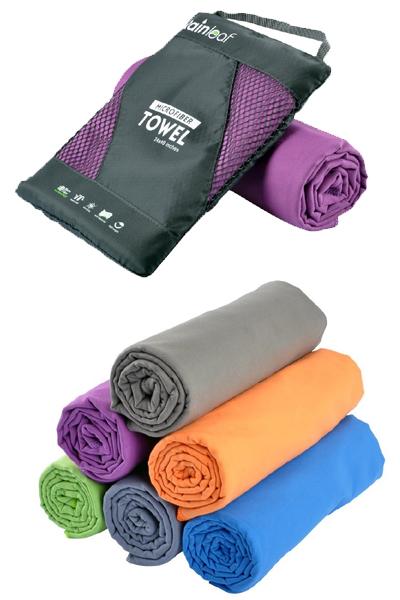 The antibacterial microfiber towel by Rainleaf is super soft and also available in a great assortment of beautiful colors.
With a snap loop available to hang your towel if you need makes it convenient so that your towel stays off the floor. Antibacterial keeps away mold and mildew leaving you with a fresh towel.
Rainleaf has a good number of different sizes available. Lifetime warranty.
Colors Available:
Purple, Blue, Green, Orange, Army Green, Grey, Rose-red
Sizes Available:
12 x 24 inches
16 x 32 inches
20 x 40 inches
24 x 48 inches
30 x 60 inches
40 x 72 inches
Features:
Fast drying
Antibacterial
Compact and lightweight
Hang snap loop
Waterproof mesh bag
Sunland Ultra Compact Microfiber Towel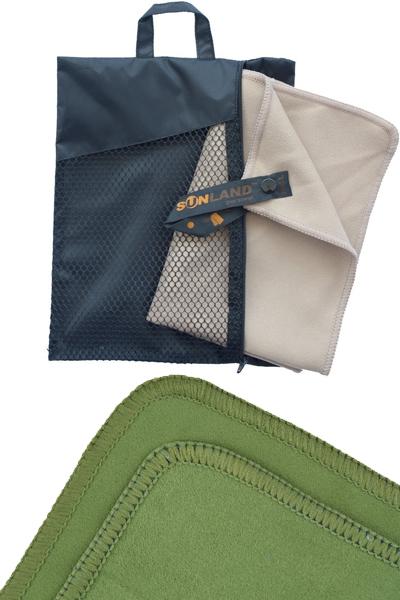 This Super Compact Microfiber Towel by is made of microfibers 80% Polyester and 20% Polyamide. It is lightweight and compact and is a must for SUPers, travelers, backpackers, hikers, etc.
With a suede like feel, this towel can absorb a lot of water and is quick drying. Just let the cloth soak up the water slowly and lightly. No need for not back and forth movement when toweling off.
Machine wash warm and separately. Tumble dry low or air dry. Do not use fabric softener or bleach.
Colors Available:
Dark Blue, Dark Kelp Green, Dark Slate Blue, Grey, Light Blue, Purple, Sand, Sliver Grey
Sizes Available:
20 x 40 inch
24 x 48 inch
32 x 60 inch
Set: 32 x 60 inch and 16 x 32 inch
40 x 72 inch
2 pack: 12 x 24 inch
2 pack: 16 x 32 inch
Features:
Light and compact
Fast dry
Multi-use
Soft and gentle on skin
Carry bag included
Hook loop for hanging
Raqpak Microfiber Travel Towel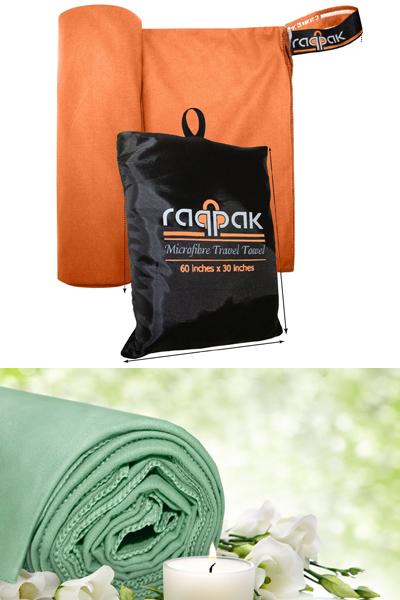 The Raqpak Microfiber Travel Towel is another top seller and highly recommended and affordable. These absorb 3 times their weight which is less than the above mentioned towels as those can absorb more. Still a very good compact antibacterial towel.
Made with antibacterial agents to reduce mold and extend the life of the towel. Available in large and small sizes. Another good option for travelling, going to beach and for camping.
Raqpak does offer a nice assortment of colors and has a hanging loop for easy drying. They offer a 100% money back guarantee or replacement if you are not satisfied.
Colors Available:
Blue, Brown, Grey, Green, Lavender, Orange, White,
Blue Mix, Green – Yellow Mix, Grey Mix, Lavender Mix, Orange Mix, Tropical Mix
Sizes Available:
Features:
Antibacterial
Quick drying
Hanging loop
Lightweight
Carry bag
Available in 2 sizes
Wolfyok 2 Pack Microfiber Towel Set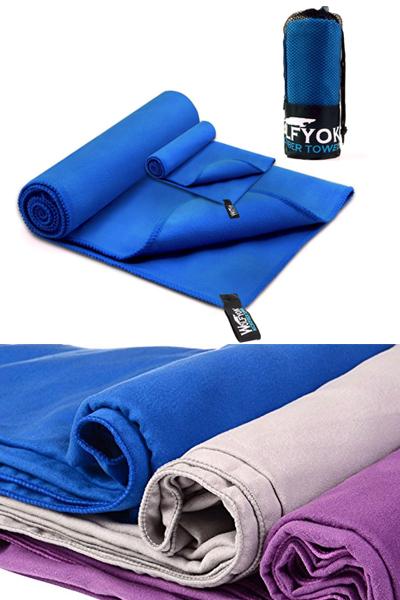 Rounding off our list of top microfiber sports towels is the Wolfyok 2 Pack Microfiber Towel Set. We like this set because you get 2 towels which is very convenient. This makes it great for any sport and outdoor activity and especially great for paddle boarding.
Hook it on your backpack and you will have a towel that does not take up any space and ready when you need it. Can be used for multiple sports and activities.
Wolfyok travel sports towel is made of high quality premium microfiber which is soft, smooth easy to wash.
Colors Available:
Charcoal Grey, Raspberry Pink, Sapphire Blue
Sizes Available:
58 x 30 inch and 14 x 13.7 inch
Features:
High quality material
Quick drying
Super absorbent
Convenient and multi-use
Lightweight and compact
Easy hanging loop
Includes a large and small towel
Carry  bag
---