If your fishing preferences are fishing for small to medium sized fish like bass and red fish, you will want to get the best spincast reel to make your experience a lot more enjoyable. We review the top 5 spincast reels of 2019 below, but first a little more information about these particular reels.
The spincast reel is a completely enclosed reel with an opening at the top where the fishing line comes out. The line wraps around a spindle situated inside the enclosed housing. The spindle sits parallel to your fishing rod so the line comes off in a coil in a fluid motion. The line is wound back around the spindle using a collar that catches the line where it comes off of the spindle and rotates as the crank is turned.
When the trigger is pushed, the collar moves out of the way and allows line to unspool from the spindle. This type of reel also has a drag that is either controlled by a wheel located on the housing or by a large spoke ring around the base of the crank handle. The drag provides tension on the line for fighting fish and is adjustable to prevent the line breaking or snapping.
To cast a rod equipped with a spincast reel you start the casting motion and press the trigger on the forward motion of the cast at the point where you want the lure to start flying. When the lure hits the desired location you turn the crank to release the trigger and engage the collar with the line. You can now start retrieving your lure.
Spincast reels usually have better line throwing distances with good holding capacity and pretty easy to handle over others. Bearings, gear ratio and weight play an important role when trying to choose the right spincast reel for you. We will discuss that further and more in depth later on.
Our 5 Best Spincast Reels of 2019
1) Zebco Omega ZO3PRO Spincast Reel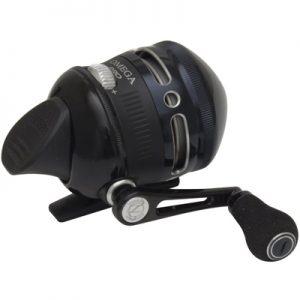 This is Zebco's most advanced spincast reel with the first ever seen 7 bearing setup makes this reel very smooth. Its ergonomic design can be easily configured for left hand or right hand retrieve.
Zebco is way ahead of its competition with this reel due to its smoothness and efficiency. Makes a great reel for beginners and seasoned veterans who want a durable and active reel.
Specifications:
Bearing count: 7
Anti-reverse: continuous
Gear ratio: 3.4:1
Features:
Machined aluminum covers
Instant reverse clutch
All-metal gears
Positive ceramic pick up pins
Quick change spool design
2) Pflueger PRES10SCB President Spincast Reel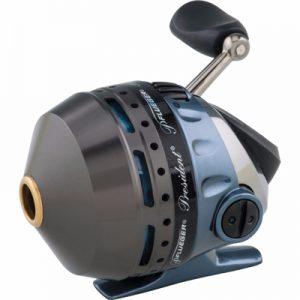 The Pflueger President spincast reel is a no nonsense easy to use reel. Perfect for throwing light baits and lures makes these reels ideal for beginner anglers. The quality and price of these reels are second to none and there are many happy customers raving about the PRES10SCB.
Specifications:
Bearing count: 5
Anti-reverse: multi-stop
Gear ratio: 3.85:1
Features:
Corrosion resistant stainless steel ball bearings
Aluminum Frame – Ensures precise gear alignment
Aluminum Cone – Plunger's highest quality machined aluminum front cone design
Dual Titanium Pins – Easier line pick-up with high-grade wear resistant materials
Instant anti-reverse – One-way clutch ball bearing for instant hook-sets
3) Daiwa Silvercast-A Series Spincast Reel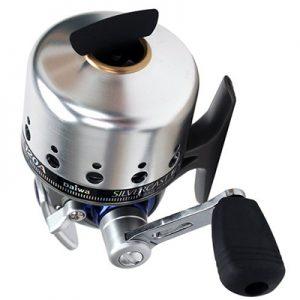 The Daiwa Silvercast-A Series is another good spincast reel that we reviewed and happy with its performance. If you are looking for a good quality cheaper reel, then the Daiwa fits the bill. Not everyone's favourite but for the price, it is a good reel to have on a secondary rod that you want to play around with.
Specifications:
Bearing count: 3
Anti-reverse: N/A
Gear ratio: 4.3:1
Features:
Hardbodyz rigid aluminum alloy construction
Rotating, Titanium nitrided line pickup turns with the line for less wear, easier casting
Spincast reel with medium action in freshwater.
4) Pflueger Trion SSCB Spincast Reel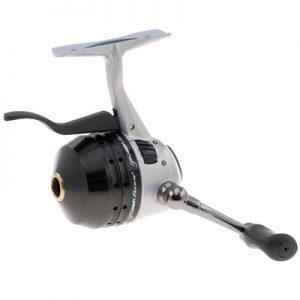 Plueger manufactures great reels and this one is no exception. A low end reel that is smooth and responsive. These reels & combos offer one of the smoothest drags on the market and the new aluminum front cone is built to last.
Lacking a continuous anti-reverse, the multi-stop is useful and works well. Not our favourite choice but a reel that many will find good value for money.
Specifications:
Bearing count: 2
Anti-reverse: multi-stop
Gear ratio: 4.1:1
Features:
Aluminum cone
Aluminum handle
Dual titanium pins
Spool applied drag
Soft touch knob
5) Zebco Omega Z03 Spincast Reel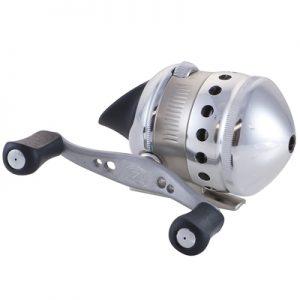 Zebco was the first to introduce a 7 bearing system and rounding out our top 5 best spincast reels is the Zebco Omega Zo3. This spincast reel is a delight with its smooth action and light aluminum cast casing, it has really good feel and handling. The quick spool change feature is great as it provides you with no fuss changing.
It also features a unique comfortable ergonomic design. Similar in shape to other Zebco reels, but the feel tells you immediately this reel is at the head of the class.
Specifications:
Bearing count: 7
Anti-reverse: continuous
Gear ratio: 2.9:1
Features:
Stainless steel bearing, anti-reverse action, quick-change spool system, ultra-smooth gear drive
Level wind oscillating spool, triple-cam multi-disc drag; ceramic line guide and pickup pins
10-Pounds line weight and 85-Yard line capacity, diecast aluminum body and reel foot
Aircraft-grade aluminum covers, includes limited one-year manufacturer's warranty