Introducing the Atoll Inflatable SUP
This inflatable stand up paddleboard got top reviews from those that used it. An 11 foot board that is made from machine laminated dual layer PVC which makes it the strongest and lightest iSUP material available.
The board weighs 19 pounds and is very easy to transport and store. With 14 D-rings available on the board surface, you can take a lot of gear with you on your SUPping adventure.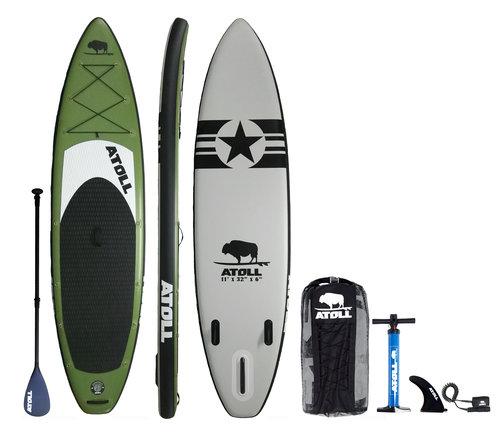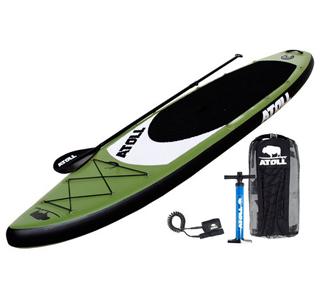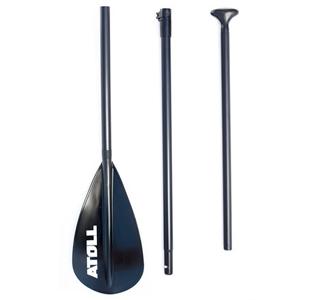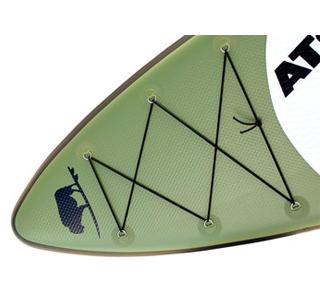 Product Overview
There are a lot of inflatable stand up paddle boards on the market and most are priced much cheaper than the Atoll iSUP. You can view our top 10 boards here to have a look at our other recommendations. The Atoll is our number 1 pick regardless of the price.
The Atoll is a high quality stand up paddleboard and one of the best out there. If you do have the budget, then I highly recommend that you get your hands on one of them. The material used, makes this board very durable and light at the same time. The length, width and thickness makes this board easy to use and handle.
It won't dive into the water as easy as others do so your feet are in any water. It holds its form very well with its rigidness.
iSUP Package Includes:
- New black aluminum alloy paddle
- 10 foot leash
- 2-way high pressure hand pump
- 8 inch composite fin
- Universal fin box
- Heavy-duty back-pack carrying case with strong mesh sides
On the water the board is very stable, which makes it easy to use for beginners doing standup paddle boarding for the first time. After a few minutes, you will get the hang of it.
It's easy to maneuver and has a good amount of play room if you start rocking yourself. The 3-piece aluminum handle is sturdy and does not move around or turn while on the water. The construction is thick and tough and at first glance you wouldn't expect it to be an inflatable board until you get up close.
All the items pack up in the included carry bag with room to spare if you want to throw a life west or water shoes inside, which it then velcros and buckles shut.One of the key features of the Atoll iSUP is that you can use any aftermarket fin on this board as it has a universal fin box. This allows you to change the fin for a shorter one if you intend to do more river and lake paddling.
The Atoll has a grippy surface that reduces slipping. The 14 D-rings gives you plenty of options for taking any gear with you. The shape of the board is great any all-round paddling and easy to maneuver in waves as well as turning in any water. An all round good board for any type of paddler.