Paddling gloves are a very good accessory for any SUPer to have no matter your experience level. Having gloves will allow you to enjoy what you do for much longer without having to worry about blisters and calluses. In this article, we will discuss 5 pairs of paddle gloves that are very good for stand up paddle boarding.
If you are a short time user meaning that you only go out for less than an hour, then you probably do not need paddle gloves. If you are one of those that enjoy cruising or touring on the calm ocean or lakes for many hours then having paddle gloves are essential. Not only does to protect you from getting blisters but it provides some good grip and protection from the sun.
Since writing this article we have added a new pair of gloves to our list. After reviewing the Windrider Pro, we have placed them in at number 3. These are well priced and good value for money.
We categorize gloves into closed and open fingers. My preference is open fingered gloves as they feel better than closed gloves when they are wet and more functional. This is just my humble opinion. Not everyone is the same so it would be more of a personal preference. I have listed the top 5 stand-up paddle board gloves based on customer reviews and feedback and mention my personal favorite which you can read about below.
5 Best Stand-up Paddle Board Gloves 2019

Our top 5 list has not changed from 2018 as we feel in our opinion at least, that these are still the top performing gloves for stand up paddle boarding.
Fishing Tree Fisherman Fingerless Gloves with Sun Protection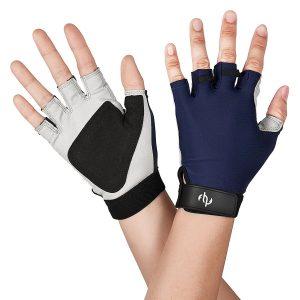 Although these say fisherman gloves in the title, these are by far the best pair of gloves that we have come across and are fantastic for any kind of paddling. What sets these apart from the others, is the skin protection layer within the material. It is not added as a spray on chemical rather it is woven into the material providing +50 UV protection.
The main materials are lycra and synthetic leather. They do not hold much water and only in the synthetic material which is minimal. The grip on the Fishing Tree gloves are good with no slippage. They are good for a range of water sports and come highly recommended.
Available Colors: Navy Blue | Sand


NeoSport Wetsuits Premium Neoprene 3/4 Finger Gloves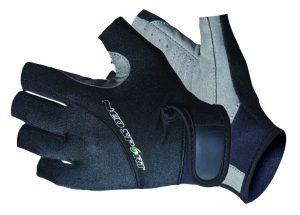 The 3/4 Finger Gloves from NeoSports offer durable and flexible construction that provides a secure grip for any water-sport application. Constructed of 1.5-millimeter neoprene, the gloves offer warmth and protection without sacrificing mobility.
Meanwhile, the vented, padded synthetic leather palm releases heat and keeps the hands from slipping from paddles, oars, or towlines. The gloves stay in place thanks to wrist fasteners.
These make #2 on our list as they are also very good for stand-up paddle boarding. They are comfortable and offer good grip when wet.
A top performer for long distance touring as the padding provides decent support. They are offer good protection from the sun but not as good as the Fishing Tree pair.
Windrider Pro Sailing Gloves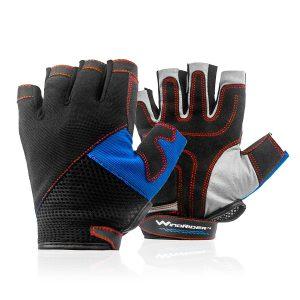 The Windrider Pro Sailing Gloves are excellent all round gloves and can be used for many water sports and out door activites such as climbing. These are breathable and fast drying so that you do not have to worry about your skin becoming clammy and wrinkly.
If your hands stay wet for a long period of time while paddling or fishing, your hands tend blister more as well chafe. We found the Windrider Pro to work well over a good period of time on the water and very comfortable.
These gloves do provide excellent protection against blistering and rope burns so that you can enjoy your time more not worrying about your hands. They have added extra padding on the palm for their 2018 version for more comfort while not eliminating any feel.
The Windrider Pro Sailing gloves are an excellent multi-sport gloves and equally good for women and men. The are available in 3/4 fingerless as well as full finger. Very agile for tieing knots and opening bags.
Overall, these gloves are excellent and very affordable too.
Available Colors: Black / blue with red stitching


Warmers Barnacle Half Finger Paddling Glove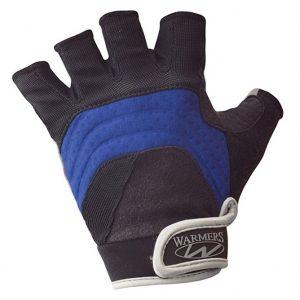 The Warmers Barnacle glove is a lightweight glove with superior grip.
The terry cloth thumb panel is great for clearing perspiration. The Silicone"Barnacles" enhance paddle grip and paddle control.
The 1/2 finger design protects the hot spots from paddling while keeping your finger tips free for fine movement, electronics, fishing and control.
Most of all they help protect your hands from blistering. However these do not offer the same kind of sun protection as our first 2 in the list above.
Available Colors: Black / Blue


Sea to Summit Solution Gear Eclipse Paddle Glove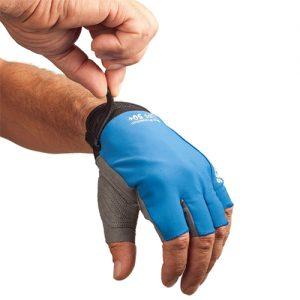 The Sea to Summit paddling glove rounds off our top 5 gloves that are ideal for stand up paddle boarding.
These are a good choice as they offer protection from the sun with +50 UV protection. The material on this pair is nice and thin which makes it lightweight.
They offer good grip with nice flexibility and good support in the high wear areas. These are also good for multi sports and exercising as they provide good protection from the sun.
The material used is comfortable and does not make your hand hot on warm sunny days. A good pair of gloves and is the expensive of the 5 that we have listed here.
Available Colors: Blue

---
Benefits of using paddle gloves
If you are an avid outdoors person who likes to spend a good amount of time on the water paddling, kayaking, wind-surfing, fishing or even hiking and climbing, gloves are a very good accessory to have. They provide the protection that you need that will prevent blistering and rope burns. Being finger-less, you will have the freedom to use your fingers for any task that requires them without having to remove your gloves.
From the various people that we have spoken to, the above mentioned gloves have also been used at obstacle races and mountain biking. With the grip that they provide as well as comfort, gave the obstacle race participants added motivation when performing each task. I have a pair of Fishing Tree gloves and use them every time that I go paddle boarding and climbing.
They are quick drying so will not stay wet for long. Keep them in your bag for whenever you are out and about.
This concludes are 5 best SUP paddling gloves. The colors are very limited with these gloves. It would be nice if different colors were offered. But none the less these are much better and more versatile than the others that we reviewed. These offer the use for multi purpose sports and are recommended for stand-up paddle boarding.