If you are looking for stand up paddle boarding near me, no matter where you live, you can SUP. The beauty about paddle boarding is that you are really not limited by location. If you live near the coast, you can hit the waves and paddle out. If you live inland, a nearby lake or slow moving river will do absolutely fine.
Anywhere that you can go kayaking or canoeing you can SUP!
Stand up paddle boarding has grown in popularity over the last 5 years and it is a fantastic outdoor activity that you can do alone or with family and friends. In the spring and the summer time, my wife and I go out very often with our 3 kids. We all get outside and keep active this way and being on the water too makes it awesome!
Paddle boarding is a good form of cardio and fitness and has its benefits. Here are a few:
works your whole body
exercising while outside
low impact
most of all, it is fun!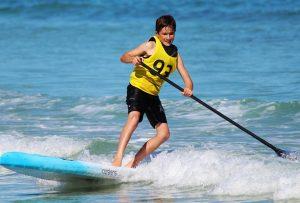 One of the best places to find out what the good spots are for paddle boarding, is your local SUP store / paddle club.  You can also find stand up paddle board rentals in your area if you do not own a board. If you are a newbie to stand up paddling, most will have lessons and how to get started sessions. Most run paddle boarding expeditions where a group will go out for a few ours around the area. These are great to hang out with like minded people who enjoy the outdoors. This way you will learn about other hot spots that you can try.
I look at SUP'ing as hiking on water. There is so much to see and new places to explore just as you would with a kayak. We always take our paddle boards with us when we go camping. We will hit new trails every day and be out for a couple of hours.
There are even yoga clubs that you can join if you are into yoga and want to add a new routine to your program. The possibilities are endless with stand up paddle boarding. If you are looking for a board to buy, there are the standard solid board and inflatable sups. If you want a classic board and have space and equipment to haul them, a solid sup is good.
If you want something that is compact, easy to transport and store, then inflatable sups are the way to go. I have inflatable sups and find them much easier to take around. They are a pain to inflate but once you are up and running, they are excellent.
We have the best inflatable sups of 2018 listed here that you can browse through. We have reviewed the top 10 and listed them based on customer reviews and feedback. We also have paddles and accessories to make your paddle boarding experience a pleasurable one.
If you enjoy fishing, stand up paddle boards provide a good platform to fish from. The fishing paddle boards are wider and stable so that you can get out to the good spots and fish. As you can see, there are so many different activities that you can do on a stand up paddle board. If you having been considering getting a SUP whether a solid board or an inflatable, you will not be sorry that you did. It is a great investment that you will make good use of.